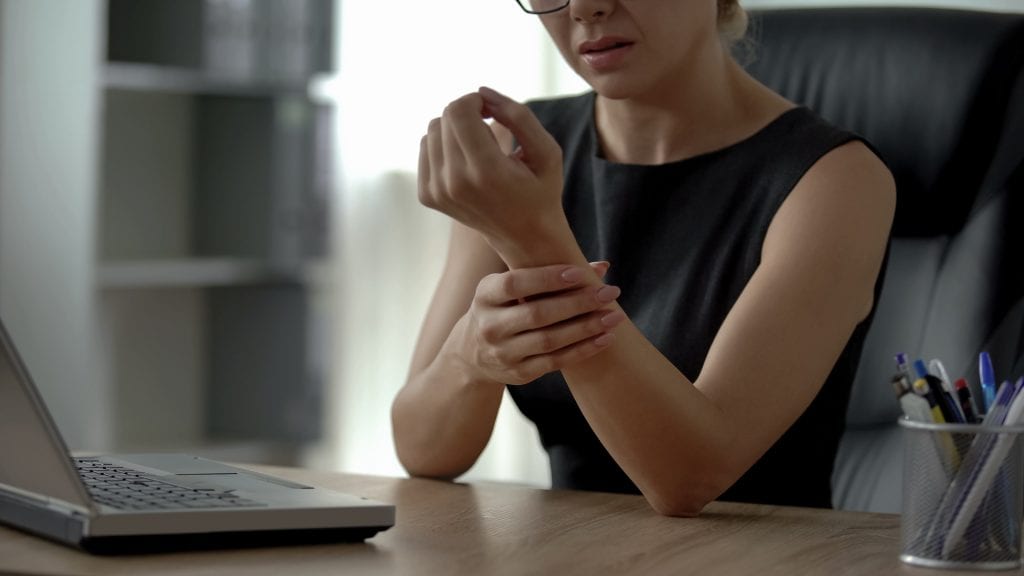 The COVID-19 pandemic has transformed the world's workforce in many ways. One of the most notable may be the significant number of people working from home full-time or those working hybrid schedules in which they work from home for one or more days each week. It is estimated that half of Americans are now working from home at least part of the time, and there are several indicators that this trend may continue. According to a recent PWC survey, 55% of executives believe that many of their employees will continue to work from home, at least part of the time, even after the pandemic. With this shift comes the potential for a greater number of work from home (WFH) injuries and accidents. So, if you are part of the work from home workforce, or if you employ WFH staff, you may be curious to know if work from home injuries qualify for workers' compensation. Let's take a look. 
Types Of Work From Home Injuries
Although it may seem like working from home should not present a significant risk, home office injuries are actually quite common. Some potential WFH injuries include: 
Ergonomic-related injuries.

Injuries to the back, neck, hands or any part of the musculoskeletal system can occur if an employee doesn't have an appropriate ergonomic workstation set up at home. Bones, joints, ligaments, muscles and tendons can all be at risk if an employee does not take breaks or if the workstation is not set up properly. 

Slips, trips and falls.

There are many accounts of people tripping or falling at home and sustaining significant injuries. People working from home may fall down the stairs, trip over hazards in hallways or take a tumble due to a slippery floor. 

Fire hazards or electrical shock.

Many families have discovered that it can be very challenging to work with a full house. Accidents happen when people are distracted. A distracted WFH employee may not pay attention to electrical hazards, or may not be able to access a fire extinguisher quickly in an emergency.
Work From Home Injuries And Workers' Compensation
Employees are covered by workers' compensation wherever they work, whether at a place of employment or at home. In general, courts will find an employer's lack of control over the conditions of an employees' home to be irrelevant. However, there are a couple of caveats. First, there is the question of whether the individual is considered to be an employee. Second, there is the issue of whether the injury is considered to be work-related. Here are some questions that a worker's compensation attorney will want to address:
Is the injured individual considered to be an employee?

Generally, volunteers and part-time domestic help are not considered to be employees. A distinction is also made between an independent contractor and an employee. It is not uncommon for companies to misclassify employees as independent contractors in an effort to avoid paying workers' comp insurance. An independent contractor is paid by the job, rather than on an hourly or salaried basis. Unlike employees, independent contractors control how a service is provided and complete the service without direction or supervision from the employer.

Did the injury occur while the employee was doing an activity required by the employer?

For example, if an employee injured their back while moving a heavy carton of printer paper that was required to print a work document, this would likely be considered a work-related injury.

Was the employee doing something on behalf of the employer at the time of the accident?

For example, did the employee trip while moving from one workstation to another, or did they trip while going downstairs to put in a load of laundry? These distinctions will be very important during a workers' comp case.

Did the employee voluntarily take work home to complete, or did the employer direct the employee to work from home?

Due to the pandemic, many employees are mandated to work from home. This is different from an employee reviewing files at home after hours, unless it was at the request of their employer. 
What To Do If You Are Injured While Working From Home
Although each case is different, courts will often side with the employee in workers' compensation cases. The general feeling is that an employer should provide safe working conditions for its employees, regardless of the location. Of course, it is up to the courts to determine the exact nature of the accident and injuries. If an accident occurs while you are is working from home, you should follow the same guidelines as if it had occurred while you were at an on-site location. You should immediately report the incident to your supervisor, and record and provide as much detail as possible. Keeping a thorough record of the details surrounding your accident is critical to having a successful workers' compensation claim. 
Workers Compensation For WFH Employees
Aside from notifying your employer about your work from home injury, illness or accident, it is important to work with a law firm that specializes in workers' compensation. In some cases, insurance companies will deny or delay medical care or payment of disability benefits simply because they can, despite the facts. Having an experienced attorney on your side will help ensure that your claim is successful. At Waldman, Grossfeld, Appel & Baer, we have a 50+ year track record of achieving the best outcome for clients who have been injured on the job. If you have been injured in a work from home accident, contact us for a consultation.