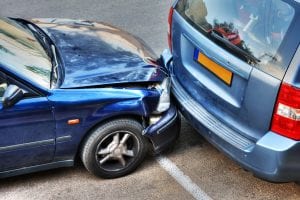 Despite our best efforts to be safe drivers, auto accidents still occur. And, unfortunately, there is often some associated psychological and physical trauma. Hundreds of accidents occur in Maryland every day, from fender-benders to serious auto accidents. In fact, in 2019, there were 10,555 auto accidents in Anne Arundel country alone and 21,530 auto accidents in Baltimore County (see chart, below).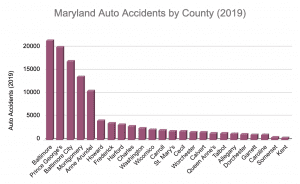 Source: Maryland Open Data Portal
Often, a person will not feel the effects of an injury immediately following a car accident. If you're experiencing delayed injuries from an auto accident, there are some important steps that you should take.
Be Aware of Delayed Pain
There are a lot of things that happen in the human body following a car accident. The jolt of the impact increases adrenaline and kicks pain-blocking endorphins into overdrive. These hormones mask any discomfort or injuries that the body would normally feel when not in "fight or flight" mode. People who feel fine immediately after an accident, often feel very differently later when those hormone levels calm down.
While hormones can block a "normal" reaction to the pain associated with a car crash injury, delayed injury pain can be insidious. It can show up hours, days or even months after the crash and can significantly impact quality of life. Consult with your medical practitioner immediately if you start experiencing any of the below symptoms. These could be associated with soft tissue damage, a concussion or even a spinal cord injury:
Injuries to bones, muscles, tendons or ligaments.
Pain in the neck muscles or other soft tissue areas.
Nausea or vomiting.
Clouded thinking or difficulty concentrating.
Sudden memory issues.
Headaches, dizziness or blurred vision.
Tailbone or disc pain.
Tingling back or the inability to move or walk.
Always Seek Medical Attention
No matter the severity of the accident, the best course of action is to seek medical attention immediately (endorphins and all). If first responders were called to the scene, be sure to have them check you over to identify any potential injuries – internal or external. If no first responders were available at the accident, visit your doctor as soon as possible. Your doctor will conduct a thorough examination and can also monitor you on an ongoing basis.
These medical evaluations are important for your well-being, and they are also critical in terms of establishing documentation. Be sure to keep a record of any medical evaluations and treatments that received following an auto accident. Insurance companies will often try to deny delayed injury claims by stating that the patient did not seek medical treatment in a reasonable timeframe.
Consult an Experienced Personal Injury Attorney
If you are involved in an auto accident, contact a personal injury attorney right away. Often, the other party's insurance company will reach out with a request that you sign a form to settle the accident. If you sign the form, and experience injuries later on, it is unlikely that you will be able to claim those injuries or be compensated for your pain and suffering. The insurance company will probably nullify the claim, saying you waited too long to seek medical attention.
The laws pertaining to delayed auto accident injury cases vary from state to state, so it is important to work with a local attorney who can help you determine if you are past the statute of limitations under Maryland law. Your attorney can also help you ascertain what types of compensation you may be entitled to based on your specific circumstances.
If you have been in an auto accident, we can help – even if your injuries were delayed. We understand that you want your case resolved in a reasonable amount of time and in a cost-effective manner. At Waldman, Grossfeld, Appel & Baer, our attorneys have more than 150 years of combined experience helping victims of auto accidents. We serve clients in Pasadena, Rosedale and Reisterstown, Cambridge, Essex, Glen Burnie, Middle River, Perry Hall, Severna Park, Towson, Owings Mills, Westminster, Annapolis, Columbia, White Marsh, Ellicott City, Easton and Bel Air. Contact us for a consultation.