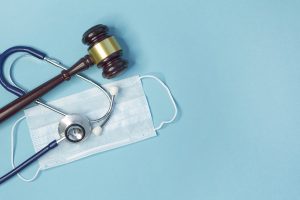 The COVID-19 pandemic has impacted people throughout the world, and unfortunately Marylanders are no exception. As of the publishing of this article, over 45,000 Marylanders have been hospitalized as a result of this virus. The pandemic has impacted countless families, industries and also the municipal and federal court systems. If you have recently suffered an injury from a car accident or have been the victim of medical malpractice or other injury, you may be wondering what action you should take. If you are considering filing a personal injury claim in Maryland right now, here is some information that you may find helpful.
Impact of the Pandemic on Personal Injury Victims
Despite the fact that many Marylanders are driving less, staying in more and may have swapped a daily commute for a stroll to a home office, injuries can still occur. Even with folks doing their best to be careful and alert, accidents happen. Some common examples are: accidental food poisoning, a dog bite, a slip-and-fall during a work-related activity and auto accidents.
It is not unusual for people who have suffered an injury during this unprecedented time to feel reluctant about filing a personal injury claim. There are multiple reasons for their hesitancy. They may be concerned that the process of filing a claim will require in-person meetings and potentially lead to exposure to COVID-19. Or, they may be worried about the time and expense of a protracted court case. At Waldman, Grossfeld, Appel & Baer, we understand these very valid concerns, and have adapted our processes for meetings, information gathering, filings and mediations. As always, we prioritize the safety and well-being of our clients.
Impact of the Pandemic on Courts
Throughout the pandemic, many courts have been working on a highly regulated and limited schedule in order to mitigate the risk of spreading the virus. Some court cases may be proceeding virtually, depending on the situation, and the legal system has slowed a bit due to these changes. If you are considering filing a claim, it is important to understand that your case may not be resolved in as timely a manner as it may have been previously. For example, remote proceedings continue throughout Maryland at the discretion of individual courts, even as some reopen for in-person proceedings. Visit the Maryland Courts' website for up-to-date information and to access a Remote Hearing Toolkit with instructions on accessing Zoom and submitting evidence remotely. If you have recently filed or are considering filing a personal injury claim, keep in mind that many personal injury cases are settled outside of the courts, without ever going to trial. An experienced attorney will be able to help you reach a favorable resolution faster.
Impact of the Pandemic on Insurance Companies
The insurance industry has been widely impacted by COVID-19, with an increase in fraudulent insurance claims as is typical in times of economic distress. With reductions in their revenue streams, insurers may be more inclined to try to minimize their liability in order to avoid paying settlement fees. Some insurance companies or at-fault parties may try to take advantage of the current slower court schedule by stalling in an effort to drag the proceedings out even further. Alternatively, some insurers may offer to settle very quickly as a tactic to pressure personal injury victims into accepting an unfair settlement. At Waldman, Grossfeld, Appel & Baer we work aggressively to get clients the compensation they rightfully deserve.
Impact of the Pandemic on Medical Providers
Some personal injury victims are hesitant to seek a medical evaluation due to concerns of being exposed to COVID-19 in the hospital, medical center, clinic or doctor's office. Fortunately, healthcare providers are among the most diligent at following strict CDC protocols for screening, masking and sanitizing. If you have been injured as the result of an accident, it is very important to seek medical attention as soon as possible. This is important for your health as well-being, as well as to establish a documented record of the medical evaluation and treatment. If you do not seek medical treatment in a timely manner, the insurance company may try to use this as an excuse to deny the claim.
Getting Help During an Uncertain Time
Accidents and injuries are unexpected and can result in pain, stress and financial hardship. If you are the victim of an accident, do not put off seeking legal representation or allow yourself to be intimidated into settling too quickly. Our Baltimore personal injury attorneys are always ready to assist. We offer options for meeting by phone or video conference and will work tirelessly to get you the compensation you deserve. Waldman, Grossfeld, Appel & Baer attorneys have more than 150 years of combined experience helping personal injury victims. We serve clients in Reisterstown, Cambridge, Essex, Middle River, Pasadena, Glen Burnie, Rosedale, Towson, Perry Hall, Owings Mills, Severna Park, Westminster, Ellicott City, Easton, Bel Air, Annapolis, Columbia and White Marsh. Contact us for a consultation.